Tales from the Borderlands: Episode 2, Coming 17th March 2014

I am not lying here. Tales from the Borderlands, one of the latest episodic games from Telltale Games, has finally been given a release date. No joke. This is something that I have been waiting since November for, and the day has finally arrived.
I must admit I, like many other people, were getting a little bit agitated with the fact that Telltale was not announcing a single thing about Tales from the Borderlands Episode 2. Even Game of Thrones, the episodic series that was launched a couple of weeks later, got its second episode over a month ago. There was not a single peep from the Tales' crew. No idea why. Nobody knows why.
One of the things that really annoyed me was the fact that Telltale states that it releases its episodes every four to six weeks. I have never seen them do that. Ever. That being said; I was expecting the second episode of Tales to come within about two months, middle of January at a push. Here we are close to four months later and we have finally been given a release date.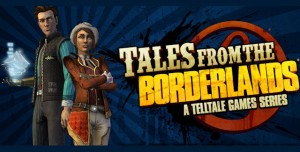 At the moment there is no word for what is holding up the game. It is likely that the game went through the same issues that 'Wolf Among Us' did, which was delayed but for not quite as long. This episodic game from Telltale was delayed as the story went through a rather extensive rewrite.
As most of you may know; Telltale develop their episodes after the previous episode has been released. They say that this is so that they can shape the story based upon the most popular decisions that the players have made, but I think it is just an excuse to pump out games as quickly as possible (who can blame them, right? People lap up their games!). In addition to this; Tales has a rather experienced voice cast. It can't be that easy getting all of them together to actually record their lines for the game, particularly with the amount of voice recordings actually needed (almost a couple of movies worth when you factor in all of the decisions that you can possibly make!)
The game is, according to Telltale Games at least, going to launch the week of the 17th March (and it will most likely come on the Tuesday). By all accounts they have recently tied themselves into that date, although previously they said that only new information would be supplied that week. I for one am genuinely excited about the release of the new episode. The last episode was true to the Borderlands universe, and it was a ton of fun to play through too (and the jokes genuinely had be laughing out loud!). The story is impeccable just like other releases from this developer. I just hope that they do not take quite as long for the third episode. If they do; we won't see the end of the series until almost a year after the game launched. That is not good.
Leave a Reply